UFOs in the daily Press:
The 1954 French flap in the Press:
The article below was published in the daily newspaper La Bourgogne Républicaine, Dijon, France, page 4, on October 26. 1954.
See the case file.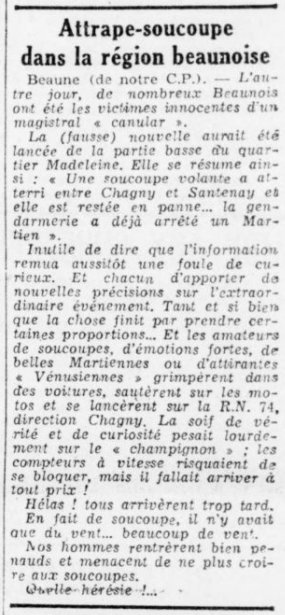 Saucer-catch
in the Beaune region
Beaune (from our P.C.). -- The other day, many Beaunois were the innocent victims of a masterful "hoax."
The (false) news would have been launched from the lower part of the Madeleine district. It can be summed up as follows: "A flying saucer has landed between Chagny and Santenay and it has a failure... The gendarmerie has already arrested a Martian."
Needless to say, the information immediately stirred a crowd of curious people. And each to provide new details on the extraordinary event. So much so that the thing ended up taking certain proportions... And lovers of saucers, of strong emotions, of beautiful Martians or attractive "Venusians" climbed into cars, jumped on motorcycles and embarked on the R.N. 74, Chagny direction. The thirst for truth and curiosity weighed heavily on the acceleratos; the speedometers risked jamming, but it was necessary to arrive at all costs!
Alas! They all arrived too late.
In manner of a saucer, there was only hot air... a lot of hot air.
Our men returned sheepishly and threatened to no longer believe in the saucers.
What a heresy!...