UFOs in the daily Press:
The 1954 French flap in the Press:
The article below was published in the daily newspaper La Bourgogne Républicaine, Dijon, France, page 4, on January 15, 1954.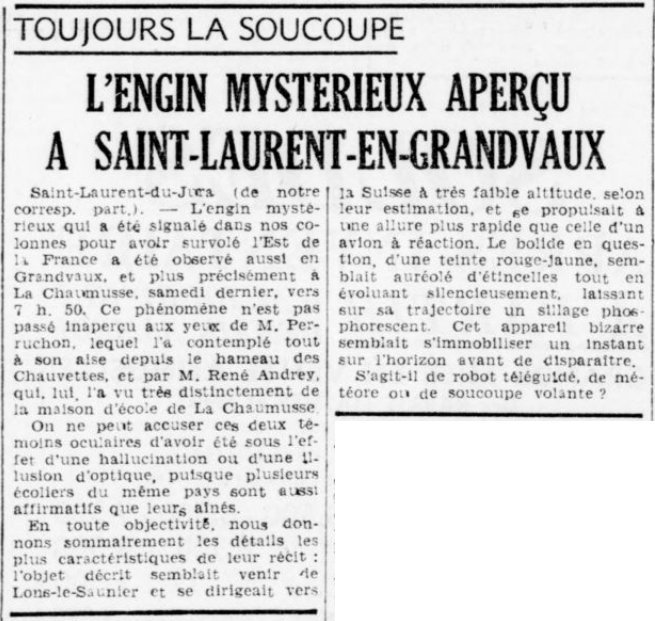 ALWAYS THE SAUCER
THE MYSTERIOUS CRAFT SPOTTED
IN SAINT-LAURENT-EN-GRANDVAUX
Saint-Laurent-du-Jura (from our special corr.). -- The mysterious craft that was reported in our columns for having flown over eastern France was also observed in Grandveau, and more precisely in La Chaumusse, last Saturday, around 7:50 a.m. This phenomenon did not go unnoticed by Mr. Perruchon, who looked at it at his ease from the hamlet of Chauvettes, and by Mr. René Andrey, who saw it very clearly from the La Chaumusse schoolhouse.
These two eyewitnesses cannot be accused of having been under the effect of a hallucination or an optical illusion, since many schoolchildren in the same country are as affirmative as their elders.
In all objectivity, we give a summary of the most characteristic details of their stories: the described object seemed to come from Lons-le-Saulnier and was heading towards Switzerland at very low speed, according to their estimates, and was propelling itself at a pace faster than that of a jet plane. The bolide in question, of a red-yellow hue, seemed to be surrounded by sparks while moving silently, leaving a phosphorescent trail in its path. This bizarre craft seemed to stop for a moment on the horizon before disappearing.
Is it a remote-controlled robot, a meteor or a flying saucer?