Barrowden, Northamptonshire, England, 120 feet diameter in barley discovered June 3, 2001. Aerial photograph by Nick Nicholson, Editor, The Circular Review.
"Near Wakerley Woods and Barrowden, (I) climbed the verge and to my left my reward (was) a substantial circular formation spanning five tractor lines! 120 feet plus. It is in barley and consists of an outer ring about 4 feet wide in the middle of the standing crop is a circle about 10-12 feet in diameter surrounded by a thin ring in between this and the outer ring. It is literally a maze of patterns too complex to describe without an aerial image. Spoke to two people in the area and they were not aware of it before. One young man said he could not recall seeing it Saturday 2nd June. It is situated west of Barrowden on the Seaton road."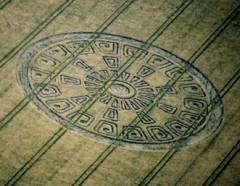 Berwick Bassett, near Avebury, Wiltshire, UK. Reported 9th June. Image Steve Alexander Copyright 2001.