The Kenneth Arnold sighting, June 24, 1947:
Kenneth Arnold's 1950 pamphlet:
12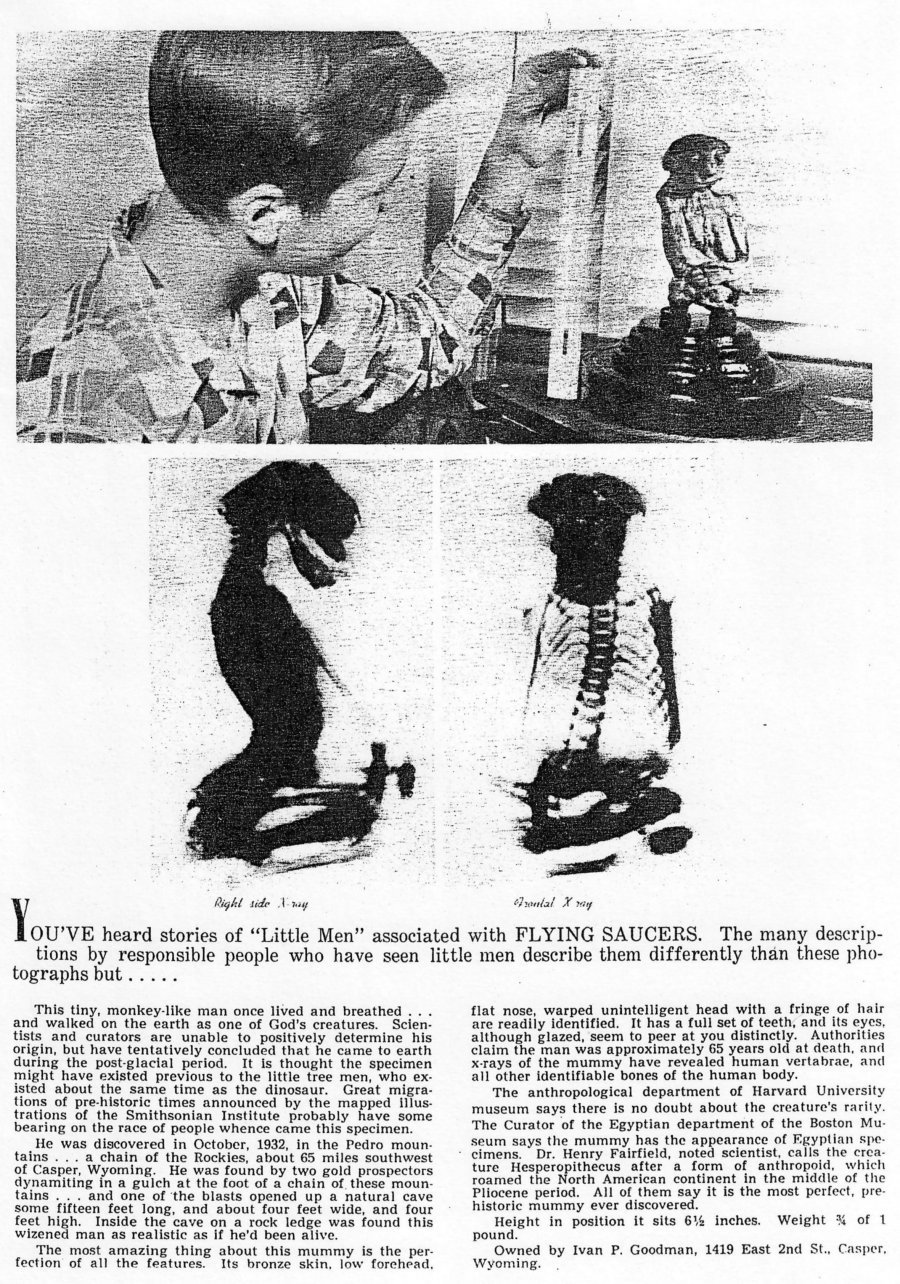 YOU'VE heard stories of "Little Men" associated with FLYING SAUCERS. The many descriptions by responsible people who have seen little men describe them differently than these photographs but .....
This tiny, monkey-like man once lived and breathed ... and walked on the earth as one of God's creatures. Scientists and curators are unable to positively determine his origin, but have tentatively concluded that he came to earth during the post-glacial period. It ls thought the specimen might have existed previous to the little tree men, who existed about the same time as the dinosaur. Great migrations of pre-historic times announced by the mapped illustrations of the Smithsonian Institute probably have some bearing on the race of people whence came this specimen.
He was discovered in October, 1932, in the Pedro mountains ... a chain of the Rockies, about 65 miles southwest of Casper, Wyoming. He was found by two gold prospectors dynamiting in a gulch at the foot of a chain of. these mountains ... and one of 'the blasts opened up a natural cave some fifteen feet Jong, and about four feet wide, and four feet high. Inside the cave on a rock ledge was found this wizened man as realistic as if he'd been alive.
The most amazing thing about this mummy is the perfection· of all the features. Its bronze skin, low forehead, flat nose, warped unintelligent head with a fringe of hair are readily identified. It has a full set of teeth, and its eyes, although glazed, seem to peer at you distinctly. Authorities claim the man was approximately 65 years old at death, and x-rays of the mummy have revealed human vertabrae, and all other identifiable bones of the human body.
The anthropological department of Harvard University museum says there is no doubt about the creature's rarity. The Curator ·of the Egyptian department of the Boston Museum says the mummy has the appearance of Egyptian specimens. Dr. Henry Fairfield, noted scientist, calls the creature Hesperopithecus after a form of anthropoid, which roamed the North American continent in the middle of the Pliocene period. All of them say it is the most perfect, prehistoric mummy ever discovered.
Height in position it sits 6.5 inches. Weight 3/4 of 1 pound.
Owned by Ivan P. Goodman, 1419 East 2nd St., Casper. Wyoming.
Notes about this page:
In October 1932, two prospectors, Cecil Mayne and Frank Carr, digging for gold in the San Pedro mountains, Carbon County, Wyoming, USA, blasted their way through some thick rock. When the dust settled, they saw they had opened up a small room, approximately 4 feet tall, 4 feet wide, and about 15 feet deep, and this "mummy of a tiny person" in it.
The find was publicized first in "Mummified Pygmy Found", a newspaper by the The Waco News-Tribune for December 15, 1934. It then started debates over whether it was a hoax, a baby, or one of the legendary "little people".
It was examined using X-rays which determined that it was the body of an anencephalic infant "whose cranial deformity gave it the appearance of a miniature adult." Later, DNA analysis showed it to be Native American and radiocarbon dating dated it to about 1700.
The mummy ended up in Meeteetse, Wyoming, at a local drug store where it was shown as an attraction for several years, then it was bought by one Ivan T. Goodman, a Casper, Wyoming businessman. It was again bought by one Leonard Wadler, a New York businessman and its location is unknown since then.