The 1954 French flap:
The index page for the 1954 French flap section of this website is here.
End September, 1954, Nielles-lès-Ardres, Pas-de-Calais:
Reference for this case: End-Sep-54-Nielles-lès-Ardres.
Please cite this reference in any correspondence with me regarding this case.
Summary:
The regional newspaper Nord Littoral, of Calais, reported on page 5 for October 2, 1954, that in Nielles-les-Ardres, two young men, René and Robert Demerval, aged 15 and 19 respectively, had, according to their claim, seen "recently" a weird disc over Nielles-les-Ardres.
The newspaper saw the elder on October 1, 1954, and he told them:
"We were in the courtyard of Mr. Lengagne's farm, whom we work for. It was almost dark and above us a kind of red and white disc moved. Moreover others who were with us saw it!"
René Demerval having given names of faram workers who would have witnessed this, the newspaper indicated that the other alleged witnesses "are by far, much less categorical", and concludes that the story did not seem serious at all.
The newspaper added that the gendarmerie of Ardres, which had heard of the affair, did not seem to take the "apparition" very seriously either.
Reports:
[Ref. nll1:] NEWSPAPER "NORD LITTORAL":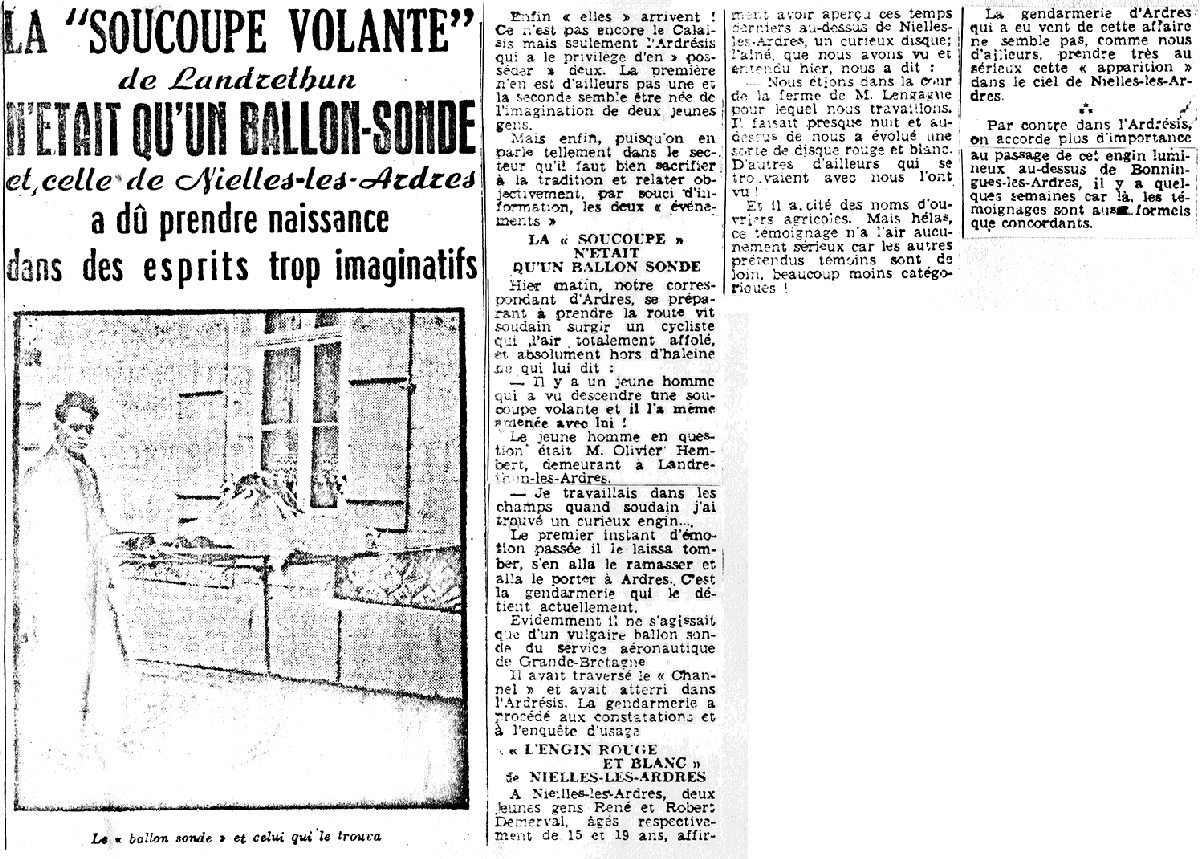 THE "FLYING SAUCER"
of Landrelhun
WAS ONLY A SOUNDING BALLOON
and that of Nielles-les-Ardres
must have been born
in overly imaginative minds
Finally "they" are coming!
It is not yet the Calaisis but only the Ardrésis which has the privilege of "owning" two. The first is not one and the second seems to have been born from the imagination of two young people.
But finally, since one talks about it so much in the area we have to sacrifice tradition and objectively relate, for the sake of information, the two "events."
THE "SAUCER"
WAS NOTHING BUT
A SOUNDING BALLOON
Yesterday morning, our correspondent in Ardres, preparing to hit the road suddenly saw a cyclist appear who looked completely distraught and absolutely out of breath who says to him:
There is a young man who saw a flying saucer descend and he even brought it with him!
The young man in question was Mr. Olivier Hembert, residing in Landrethun-lès-Ardres.
- I was working in the fields when suddenly I found a curious machine...
The first moment of emotion passed he dropped it, went to pick it up and went to take it to Ardres. It is the gendarmerie who currently holds it.
Obviously it was only a vulgar sounding balloon of the aeronautical service of Great Britain.
It had crossed the Channel and landed in the Ardresis. The gendarmerie carried out the findings and the usual investigation.
"THE RED AND WHITE
CRAFT"
FROM NIELLES-LES-ARDRES
In Nielles-les-Ardres, two young people René and Robert Demerval, aged 15 and 19 respectively, claim to have seen these last times over Nielles-les-Ardres a curious disc; the elder, whom we saw and heard yesterday, told us:
- We were in the courtyard of Mr. Lengagne's farm for whom we work. It was almost dark and above us a sort of red and white disc moved. Others who were with us saw it!
And he mentioned names of farm workers. But alas, this testimony does not seem at all serious since the other alleged witnesses are by far, much less categorical!
The gendarmerie of Ardres who heard of this affair does not seem, like us, to take this "appearance" in the skies of Nielles-les-Ardres very seriously.
On the other hand, in the Ardrésis, more importance is given to the passage of this luminous object above Bonningues-les-Ardres, a few weeks ago because there, the testimonies are as formal as they are consistent.
[Ref. nll2:] NEWSPAPER "NORD LITTORAL":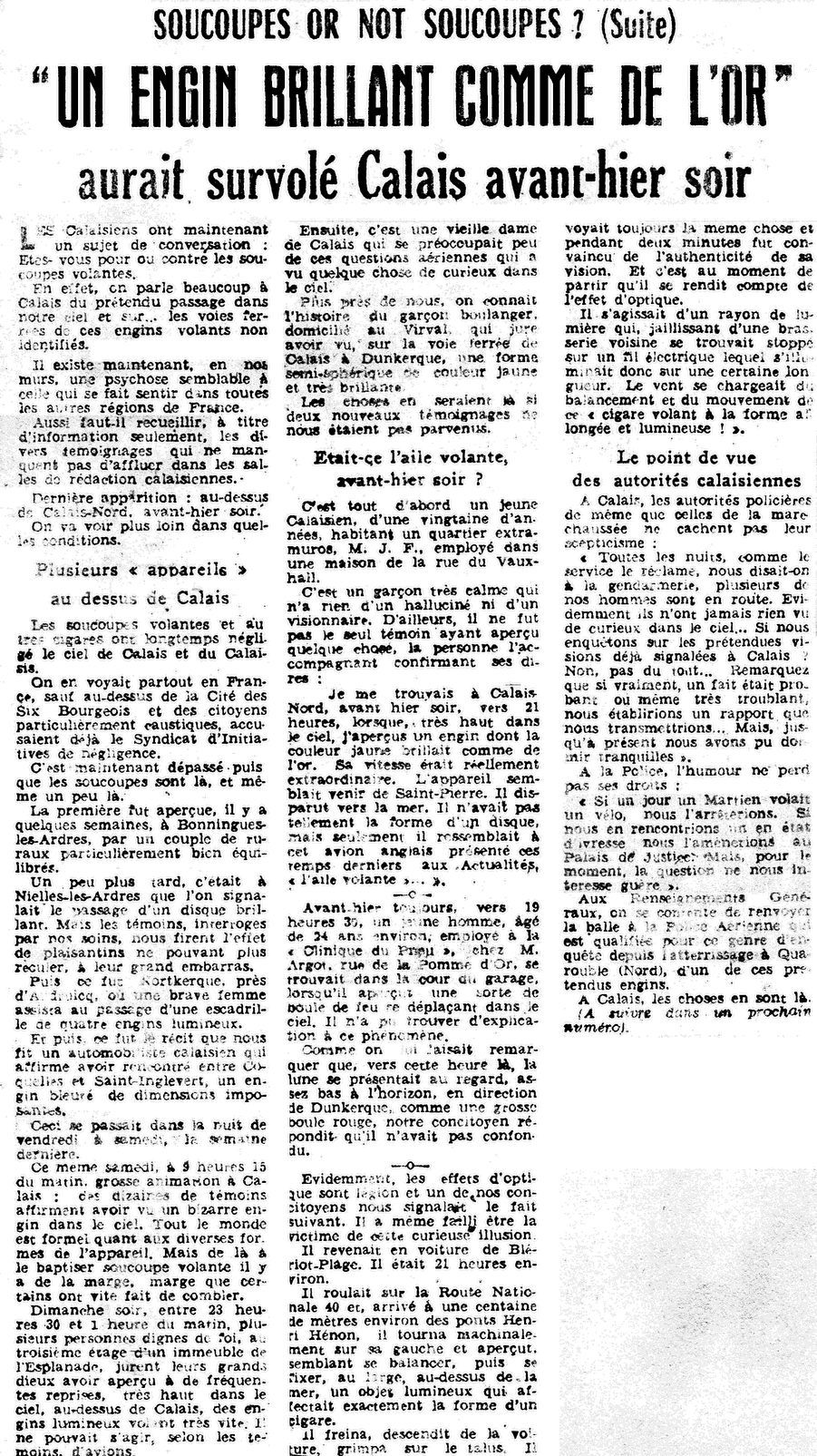 SAUCERS OR NOT SAUCERS (Continued)
"A CRAFT SHINING LIKE GOLD"
reportedly flew over Calais the day before yesterday at night
The Calais residents now have a topic of conversation: Are you for or against the flying saucers.
Indeed, there is a lot of talk in Calais about the alleged passage in our sky and on the railways of these unidentified flying machines.
There is now, within our walls, a psychosis similar to that which was felt in all the other regions of France.
Also it is necessary to collect, for information only, the various testimonies which do not fail to flow in the newsrooms of Calais.
Last appearance: above Calais-Nord, the day before yesterday in the evening.
We will see further under what conditions.
Several "craft"
above Calais
Flying saucers and other cigars have long neglected the skies of Calais and the Pas-de-Calais.
They were seen everywhere in France, except above the City of the Six Burgers [= Calais] and particularly caustic citizens, already accused the Tourists' Office of negligence.
It is obsolete now since the saucers are there, and even quite there.
The first was seen a few weeks ago, in Bonningues-les-Ardres, by a particularly well-balanced rural couple.
A little later, it was in Nielles-les-Ardres that the passage of a brilliant disc was reported. But the witnesses, interviewed by us, made us think of jokers who could not back down, much to their embarrassment.
Then it was Nortkerque, near Audruicq, where a brave woman witnessed the passage of a squadron of four luminous craft.
And then it was the story told to us by a driver from Calais who claims to have met between Coquelies and Saint-Inglevert, a bluish craft of impressive dimensions.
This was happening on the night of Friday to Saturday, last week.
That same Saturday, at 9:15 a.m., a big event in Calais: dozens of witnesses affirm that they saw a strange object in the sky. Everyone is formal about the various forms of the craft. But there is room left before baptizing it a flying saucer; which some people quickly did.
Sunday evening, between 11:30 p.m. and 1 a.m., several reliable people, on the third floor of a building in the Esplanade, swear their great gods to have seen on numerous occasions, very high in the sky, above Calais, luminous craft, flying very fast, it could not be planes, according to the witnesses.
Then, it was an old lady from Calais who cared little for these aerial questions who saw something odd in the sky.
Closer to home, we know the story of the baker boy, domiciled in Le Virval, who swears to have seen, on the railway line from Calais to Dunkerque, a semi-spherical shape, yellow in color and very shiny.
Things would be left there if two new testimonies hadn't reached us.
Was it the flying wing
the day before yesterday evening?
It is first of all a young Calais resident, in his twenties, living in an extramural district, Mr. J. F., employed in a house on rue du Vauxhall.
He's a very calm boy who has nothing to do with hallucinations or visionaries. Besides, he was not the only witness who saw something, the person accompanying him confirming his words:
"I was in Calais Nord, the day before yesterday evening, around 9 p.m., when, very high in the sky, I saw a craft whose yellow color shone like gold. Its speed was really extraordinary. The apparatus seemed to come from Saint-Pierre. It disappeared towards the sea. It did not have so much the shape of a disc, but only, it resembled this English plane presented lately in the News, "the Flying Wing"..."
- o-
Also the day before yesterday, around 7:30 p.m., a young man, about 24 years old, employed at the "Clinique du Pneu", at M. Argot's, rue de la Pomme d'Or, was in the garage yard when he saw a kind of fireball moving in the sky. He could not find an explanation for this phenomenon.
As it was pointed out to him that, around this time, the moon appeared to the eye, quite low on the horizon, towards Dunkirk, like a big red ball, our fellow citizen replied that he had not confused.
- o-
Obviously, the optical effects are legion and one of our fellow citizens pointed out to us the following fact. He even almost fell victim to this curious illusion.
He was returning by car from Blériot-Plage. It was around 9 p.m.
He was driving on Route Nationale 40 and, having arrived about a hundred meters from the Henri Hénon bridges, he turned mechanically to his left and saw, seeming to swing, then settle, offshore, above the sea, a luminous object which had the shape of a cigar.
He braked, got out of the car, climbed onto the embankment. He still saw the same thing and for two minutes was convinced of the authenticity of his vision. And it was when he was leaving that he realized the optical effect.
It was a ray of light which, gushing from a nearby brewery was stopped on an electric wire which lit up over a certain length. The wind was responsible for the swing and movement of this "flying cigar with an elongated and luminous shape!".
The point of view
of the Calais authorities
In Calais, the police authorities as well as those of the constabulary do not hide their skepticism:
"Every night, as the service demands", we were told at the gendarmerie, "several of our men are on the way. Obviously they have never seen anything odd in the sky..." Wether we investigate the alleged visions already reported in Calais: "No, not at all... Note that if really, a fact was convincing, or even very disturbing, we would establish a report that we would forward... But so far, we have been able sleep easy."
At the Police, humor does not lose its rights:
If one day a Martian would stole a bicycle, we would arrest him. If we meet one who is drunk, we will bring him to the courthouse, but for the moment the question is of little interest to us."
At the General Intelligence, one drops the ball to the Air Force which is qualified for this kind of investigation since the landing in Quarouble (Nord), of one of these alleged craft.
In Calais, that's how thing are.
(To be continued in a future issue).
Explanations:
Probable invention.
Keywords:
(These keywords are only to help queries and are not implying anything.)
Nielles-lès-Ardres, Pas-de-Calais, René Demerval, Robert Demerval, multiple, disc, farm, Lengagne, evening, red, white, gendarmes
Sources:
[----] indicates sources that are not yet available to me.
[nll1] Article in the regional newspaper Nord Littoral, Calais, France, page 5, October 2, 1954.
[nll2] Article in the regional newspaper Nord Littoral, Calais, France, page 2, October 16, 1954.
Document history:
| Version: | Created/Changed by: | Date: | Change Description: |
| --- | --- | --- | --- |
| 1.0 | Patrick Gross | May 2, 2020 | First published. |
| 1.1 | Patrick Gross | May 4, 2020 | Addition [nll2]. |