The 1954 French flap:
The index page for the 1954 French flap section of this site is here.
October 5, 1954, Réthel, Ardennes:
Reference number for this case: 5-Oct-54-Rethel. Thank you for including this reference number in any correspondence with me regarding this case.
Reports:
[Ref. ll1:] NEWSPAPER "LE LORRAIN":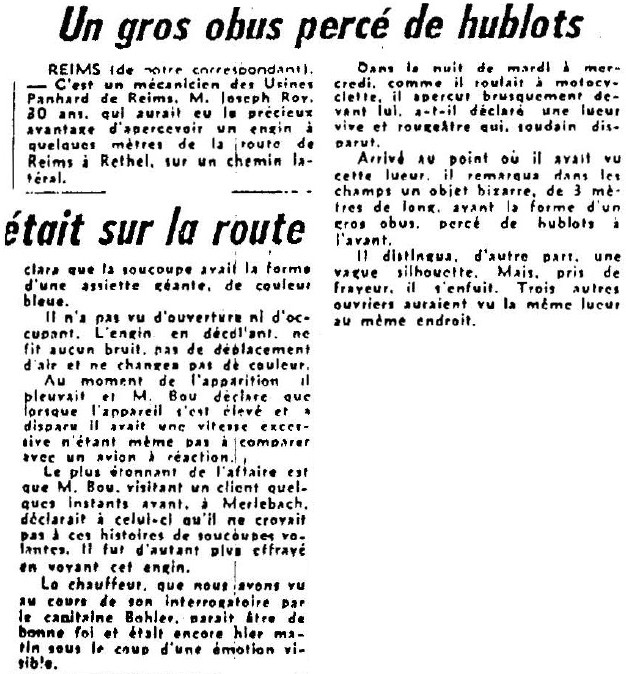 A large shell pierced with portholes
REIMS (from our correspondent). -- It was a mechanic from the Panhard factory in Reims, Mr. Joseph Roy, 30, who would have had the advantage of seeing a machine a few meters from the road from Reims to Rethel, on a side road.
In the night from Tuesday to Wednesday, as he rode on a motorcycle, he suddenly saw a bright, reddish gleam before him, which suddenly disappeared.
Arrived at the spot where he had seen this gleam, he noticed in the fields a strange object, 3 meters long, in the shape of a large shell pierced with portholes at the front.
He distinguished, on the other hand, a vague silhouette. But frightened, he fled. Three other workers had seen the same light in the same place.
The "saucer" was on the road
FORBACH (From our correspondant) . -- Thursday evening, AT ABOUT 07:20 P.M., while returning from his round of distribution, the driver of the Coca-Cola company, Mr. Bou Charles, aged 30, resident of Stiring-Wendel, 21 rue Nationale, was after the crossing of Rosbruck on the National Road N.3, at the entry of Morsbach when suddenly, his attention was caught by a machine being on this road. Mr. Bou, astonished, believed in a road accident and stopped his truck within a few meters of the machine. At this point in time he realized, while getting out of his vehicle, that it was a circular machine of a diameter of 9 m and a 4 m height approximately (more than 2 times size of a normal man), which was lit by several beams of lights directed towards the ground. Ahving approached and being within a few meters of this odd apparatus, Mr. Bou saw the machine suddenly taking off vertically and rising at 10 meters approximately in the air, to then move in the direction of Morsbach.
All this scene occurred in the timeframe of a few seconds in front of the amazed driver. Mr. Bou, still under the blow of the emotion, took again his road and went to his owner, to whom he described the scene, and went to refer about it to the gendarmerie. Captain Bohler, informed, went with Mr. Bou on the location, but could not detect any trace on the roadway. He lengthily questioned the driver, who declared to him that the saucer had the shape of a giant plate, of blue color. He did not see an opening nor any occupant. The machine, while taking off, did not make any noise, no air volume was displaced and there was no change of color. At the time of the appearance it rained, and Mr. Bou declares that when the apparatus rose and disappeared it had an excessive speed, which cannot even be compared to that of a jet airplane.
The most astonishing of the case is that Mr. Bou, visiting a customer a few moments before, in Merlebach, declared to this one that he does not believe in these flying saucers stories. He was thus all the more frightened when seeing this machine.
The driver that we saw during his interrogation by Captain Bohler, appears to be of good faith and was still under the blow of a visible emotion yesterday morning.
[Ref. jg1:] JIMMY GUIEU:
The author indicates that on October 5, 1954, late in the night, close to Reims, mechanic Joseph R. returned home when he noticed a sharp gleam in front of him.
He initially believed that it was the headlights of car. The gleam suddenly extincted and at the spot where he had seen it, Joseph R. distinguished at the edge of the road an weird machine of more than 3 meters in length in the shape of large shell bored of port-holes.
At the front stood a vague silhouette which he could not define. The silhouette moved, blurred, and little after the machine flew away.
The next day the Gendarmerie went to the site to examine the traces left by the apparatus.
[Ref. jb1:] JEROME BEAU:
Jérôme Beau indicates that on October 5, 1954, Joseph Roy, aged 30, mechanic with the Panhard factories, drives by motorcycle at a few meters of the road from Rheims to Rethel on a sideway, when he sees in front of him a sharp and reddish gleam which disappears suddenly. Arrived at the place where he saw the gleam, he notices a 3 m long object in the fields, having the shape of a large shell, bored port-holes at its front. He also distinguishes a vague silhouette. Seized with fright, he fleds. 3 other workmen are said to have seen the same gleam at the same place.
Jérôme Beau indicates that the source is Le Lorrain, of Nancy, for Saturday 9 - Sunday 10, October 1954, page 7, according to Sider, 1997.
[Ref. ta1:] "THINK ABOUT IT" WEBSITE:
Location: Rethel, Ardennes France
Date: October 6 1954
Time: 0030A
30-year old mechanic Joseph Roy was returning on National Highway 51 from Reims to his home at Rethel, a distance of 25 km, on his motorcycle. When he noticed ahead of him a sharp and reddish gleam which suddenly disappeared, arriving at the point where he had seen the gleam he noticed an odd object in the field, about 3 meters in length, having the form of a large shell, with several portholes on the front. He is then able to distinguish a vague silhouette, but seized with fright, he fled the area. Three other workmen reported seeing the same gleam in the area.
Source: Joel Mesnard & Jean Marie Bigorne
[Ref. ub1:] "UFO-DATENBANK":
This database recorded this case three times:
| | | | | | | | | | | |
| --- | --- | --- | --- | --- | --- | --- | --- | --- | --- | --- |
| Case Nr. | New case Nr. | Investigator | Date of observation | Zip | Place of observation | Country of observation | Hour of observation | Classification | Comments | Identification |
| 19541005 | | | 05.10.1954 | | Reims | France | Night | CE III | | |
| 19541005 | | | 05.10.1954 | | Reims | France | 22.00 | CE II | | |
| 19541005 | | | 05.10.1954 | | Reims | France | 22.00 | CE II | | |
Explanations:
Unfortunately all that seems to be known on the occurrence is what appeared in the newspaper, and apparently no investigation of data gathering followed.
It is not possible to discard the possibility that Mr. Roy might have actually seen some earthly vehicle. The fact that he saw the occupant only as a silhouette, in the night, and that he fled with no further look, suggest that the observation conditions were sufficiently poor to allow for some confusion to occur.
Keywords:
(These keywords are only to help queries and are not implying anything.)
Rethel, Ardennes, Joseph Roy, road, motorcycle, gleam, red, object, cigar, landing, elongated, portholes, occupant, frightened
Sources:
[---] indicates sources which I have not yet checked.
Document history:
| Version: | Created/Changed by: | Date: | Change Description: |
| --- | --- | --- | --- |
| 0.1 | Patrick Gross | January 5, 2009 | First published. |
| 0.2 | Patrick Gross | 17 novembre 2004 | Conversion from HTML to XHTML Strict. |
| 1.0 | Patrick Gross | January 5, 2009 | First formal version. |
| 1.1 | Patrick Gross | March 13, 2010 | Addition [jg1]. |
| 1.2 | Patrick Gross | October 8, 2014 | Addition [pr1]. |
| 1.3 | Patrick Gross | January 9, 2017 | Addition [pr1]. |