The 1954 French flap:
The index page for the 1954 French flap section of this website is here.
October 3, 1954, Pleyben, Finistère:
Reference number for this case: 3-Oct-54-Pleyben. Thank you for including this reference number in any correspondence with me regarding this case.
Reports:
[Ref. ge1:] "GEPSI" UFOLOGY GROUP: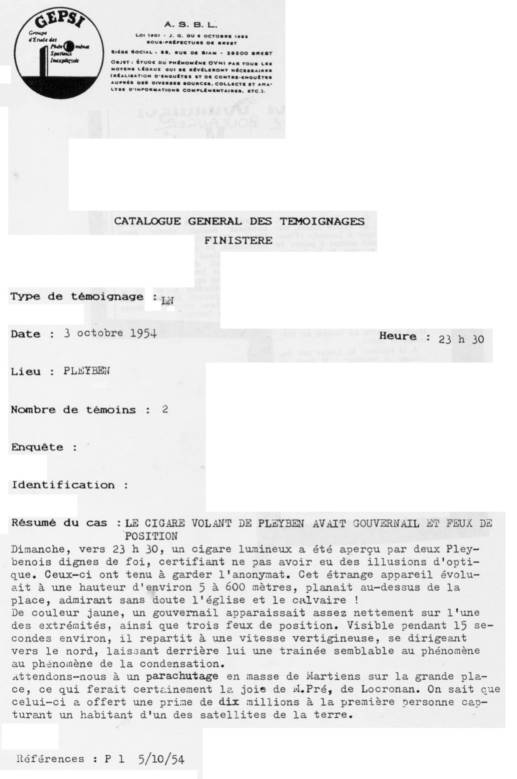 GEPSI
Groupe d'Etude des Phénomènes Spatiaux Inexpliqués [Unexplained Space Phenomena Study Group]
A.S.B.L.
1901 LAW- OFFICIAL JOURNAL OF OCTOBER 6, 1983
HEADQUARTERS [] RUE DE SIAM - 29200 BREST
OBJECT: STUDY OF THE UFO PHENOMENON BY ALL
LEGAL MEANS WHICH MAY PROVE NECESSARY
(INVESTIGATIONS AND COUNTER-INVESTIGATIONS
TO THE VARIOUS SOURCES, COLLECT AND ANA-
LYSIS OF ADDITIONAL INFORMATION, ETC.)
GENERAL CATALOGUE OF WITNESSES
FINISTERE
Type of testimony: NL [Nocturnal Light]
Date: October 3, 1954
Location: PLEYBEN
Number of witnesses: 2
Investigation:
Identification:
Time: 11:30 p.m.
Case summary: THE FLYING CIGAR OF PLEYBEN HAD HAD RUDDER AND NAVIGATION LIGHTS
Sunday, at about 11:30 p.m., a luminous cigar was seen by two ressidents of Pleyben worthy of faith, certifying not to have had optical illusions. They made a point of keeping anonymity. This strange apparatus evolved at a height of approximately 5 to 600 meters, hovering above the place, undoubtedly admiring the church and the martyrdom!
Of yellow color, a rudder appeared rather clearly on one of the ends, as well as three navigation lights. Visible during 15 seconds approximately, it set out again at a vertiginous speed, moving towards the north, leaving behind itself a trails similar to the phenomenon of condensation.
Let's wait for a mass parachuting of Martians on the main square, that would certainly cause the happiness of Mr. Pré, of Locronan. It is known that the latter offered a premium of ten million francs to the first person capturing an inhabitant of one of the satellites of the earth.
References: P 1 5/10/5
Note: The GEPSI casefile above is obviously the reproduction of an article from the Press of that time; which references are unfortunately not indicated.
[Ref. vo1:] "ARCHIVES VIGIE OVNI 29":
Pleyben ( 29 190 ), 03 October 1954, 23 h 30 ...
Testimony nr. FR 29 190 1954 10 03 23 30
Available documents:
Explanations:
Not looked for yet.
Keywords:
(These keywords are only to help queries and are not implying anything.)
Pleyben, Finistère, cigar, luminous, night, yellow, rudder, tail, lights, fires, duration, fast, trail
Sources:
[---] indicates sources which I have not yet checked.
[ge1] File, GEPSI ufology group, the Finistère, France.
[vo1] Web page of the Archives Vigie OVNI 29 website, France, not dated, found in 2017, at https://ufo29.jimdo.com/de-2010-%C3%A0-2019-14/de-1950-%C3%A0-1959-29/1954-29/
Document history:
| Version: | Created/Changed by: | Date: | Change Description: |
| --- | --- | --- | --- |
| 0.1 | Patrick Gross | December 2, 2005 | First published. |
| 1.0 | Patrick Gross | January 9, 2009 | Conversion from HTML to XHTML Strict. First formal version. |
| 1.1 | Patrick Gross | February 7, 2017 | Addition [vo1]. |