The 1954 French flap:
The index page for the 1954 French flap section of this website is here.
October 1, 1954, Les Attaques, Pas-de-Calais:
Reference for this case: 1-Oct-54-Les Attaques.
Please cite this reference in any correspondence with me regarding this case.
Summary:
The regional newspaper Liberté, of the Nord department, published mainly "skeptical" and scoffing articles about the flying saucers of the Fall of 1954. In an article of October 2, 1954, this newspaper told that the day before in the morning, there had been a "flying saucer" which was only a "harmless" sounding balloon in the commune of Les Attaques, near Calais.
Reports:
[Ref. lib1:] NEWSPAPER "LIBERTE":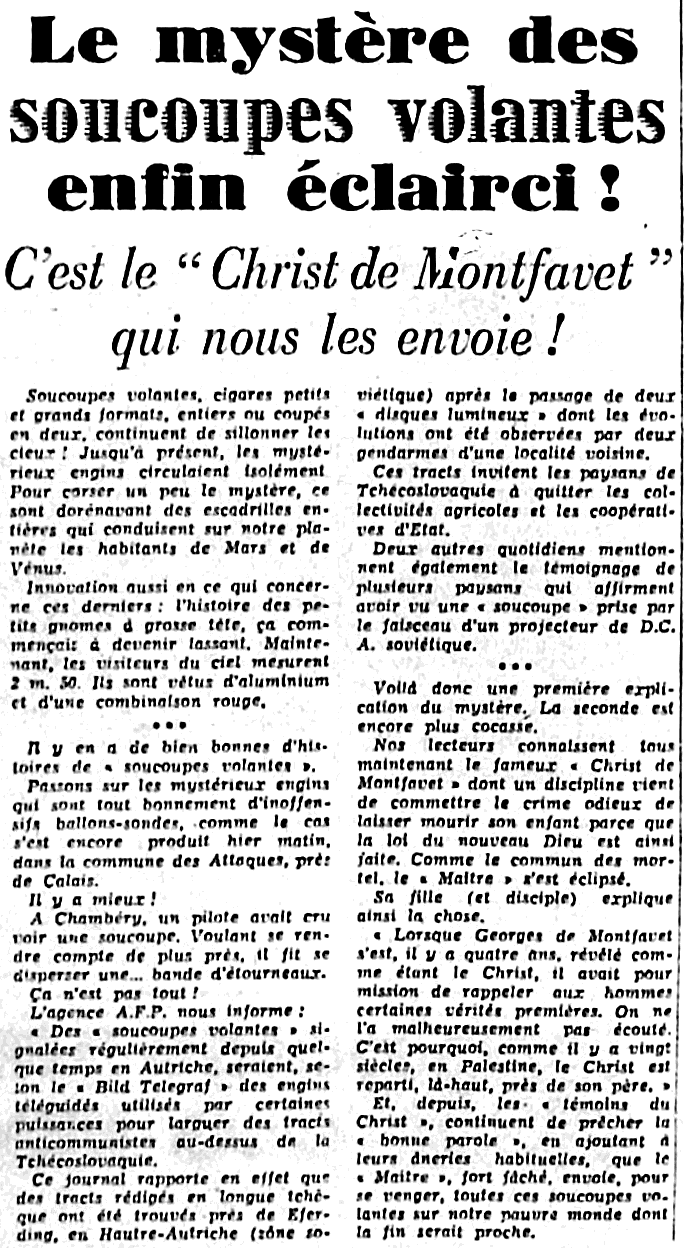 The mystery of
the flying saucers
finally solved!
It is the "Christ of Monfavet" who sends them to us!
Flying saucers, cigars large and small, whole or cut in half, continue to crisscross the skies! Until now, the mysterious craft have been traveling in isolation. To add to the mystery, there are now whole squadrons that bring to our planet the inhabitants of Mars and Venus.
Innovation also with regard to these: the stories of small gnomes with big heads was starting to get boring. Now the sky visitors measure 2.50 m.. They are clad in aluminum and a red jumpsuit.
There are some very good stories of "flying saucers".
Let's move on from the mysterious craft that are just harmless sounding balloons, as the case happened again yesterday morning, in the town of Les Attaques, near Calais.
There is better!
In Chambéry, a pilot thought he saw a saucer. Wanting to get a closer look, he dispersed a... flock of starlings.
That's not all!
The A.F.P. agency informs us:
"According to the "Bild Telegraf", "flying saucers" which were regularly reported in Austria for some time, are unmanned devices used by certain powers to drop anti-communist leaflets over Czechoslovakia.
This newspaper indeed reports that leaflets written in Czech language were found near Eferding, in Upper Austria (Soviet zone) after the passage of two luminous discs whose movs were observed by two gendarmes of a nearby locality.
These leaflets invite the peasants of Czechoslovakia to leave the agricultural communities and the state cooperatives.
Two other daily newspapers also mentioned the testimony of several peasants who claim to have seen a saucer caught by the beam of a Soviet A. A. searchlight.
So that's a first explanation of the mystery. The second is even more funny.
Our readers now all know the famous "Christ of Monfavet" whose discipline [sic, disciple] just committed the heinous crime of letting his child die because the law of the new God is thus made. Like ordinary people, the "Master" has disappeared.
His daughter (and disciple) explains it this way.
"When Georges de Monfavet revealed himself four years ago to be Christ, his mission was to remind men of certain basic truths. Unfortunately, he was not listened to. This is why, like twenty centuries ago, in Palestine, Christ set out again, up there, near his father."
And, since then, the "witnesses of Christ", continue to preach the good word, adding to their usual stupidities, that the "Master", very angry, sends, for revenge, all these flying saucers on our poor world whose end would come soon.
Explanations:
Negative case of weather balloon, or journalistic invention.
This might also be another sighting, or a poorly localized version of the weather balloon incident in Ardres that day, 6 km in the Southeast of Les Attaques.
Keywords:
(These keywords are only to help queries and are not implying anything.)
Les Attaques, Pas-de-Calais, balloon, weather balloon, sounding balloon, morning
Sources:
[----] indicates sources that are not yet available to me.
[lib1] Article in the regional newspaper Liberté, Nord, France, page 6, October 2, 1954.
Document history:
| Version: | Created/Changed by: | Date: | Change Description: |
| --- | --- | --- | --- |
| 1.0 | Patrick Gross | June 23, 2020 | First published. |