The 1954 French flap:
The index page for the 1954 French flap section of this site is here.
October 18, 1954, Nîmes, Gard:
Reference number for this case: 18-Oct-54-Nimes. Thank you for including this reference number in any correspondence with me regarding this case.
Reports:
[Ref. lp1:] "LE PROVENCAL" NEWSPAPER: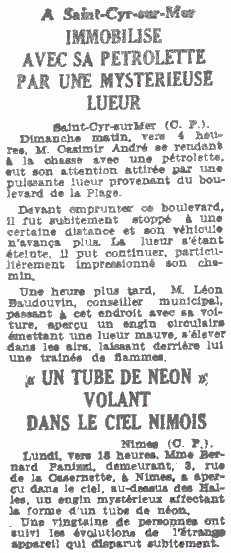 In Saint-Cyr-sur-Mer
IMMOBILIZED WITH HIS MOTORBIKE BY A MYSTERIOUS GLEAM
Saint-Cyr-sur-Mer (C.P.).
Sunday morning around 4 hours, Mr. Casimir André going to hunting on motorbike, had his attention drawn by a powerful gleam coming from the boulevard de la Plage [boulevard of the Beach].
Having to go through this boulevard, he was suddenly stopped at a certain distance and his vehicle did not advance any more. When the gleam went out, he was able to resume his travel, particularly impressed.
One hour later, Mr. Leon Baudouvin, city council man, passing at this place with his car, saw a circular machine emitting a purple gleam, rise in the airs, leaving behind itself a trail of flames.
A "NEON TUBE" FLYING IN THE SKY OF NIMES
Nimes (C.P.).
Monday, around 6 p.m., Mrs. Bernard Panizzi, living on 3, rue de la Casernette, in Nimes, saw in the sky above les Halles [the Markets], a mysterious machine affecting the shape of a neon tube.
Some twenty people followed the evolutions of the strange apparatus which disappeared suddenly.
Explanations:
Not looked for yet.
Keywords:
(These keywords are only to help queries and are not implying anything.)
Nimes, Gard, Bernard Panizzi, Casernette, Halles,neon, tube, multiple
Sources:
[---] indicates sources which I have not yet checked.
[lp1] Article in the regional newspaper Le Provençal, France, page 12, October 20, 1954.
Document history:
| Version: | Created/Changed by: | Date: | Change Description: |
| --- | --- | --- | --- |
| 0.1 | Patrick Gross | February 25, 2006 | First published. |
| 1.0 | Patrick Gross | June 6, 2009 | Conversion from HTML to XHTML Strict. First formal version. |