The 1954 French flap:
The index page for the 1954 French flap section of this website is here.
octobre 18, 1954, Etaples, Pas-de-Calais:
Reference number for this case: 18-Oct-54-Etaples. Thank you for including this reference number in any correspondence with me regarding this case.
Summary:
The local newspaper Le Journal de Montreuil for October 24, 1954, indicated that on october 18, 1954, at the same hour, 8:45 p.m., than the sighting in Hesdin, this luminous phenomenon was also seen in Etaples by several people.
Reports:
[Ref. jdm1:] "JOURNAL DE MONTREUIL" NEWSPAPER: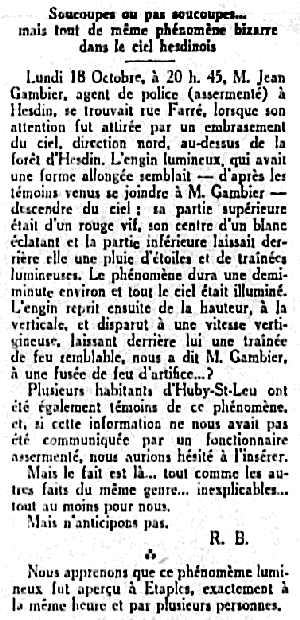 Saucers or not saucers...
but nevertheless weird phenomenon
in the Hesdin sky
Monday, October 18, at 8:45 p.m., Mr. Jean Gambier, police officer (sworn) in Hesdin, was on rue Farré, when his attention was drawn to a blaze of the sky, northern direction, above the Hesdin forest. The luminous craft, which had an elongated shape seemed - according to the witnesses who came to join Mr. Gambier - to descend from the sky; its upper part was bright red, its center was bright white, and the lower part left behind a shower of stars and luminous streaks. The phenomenon lasted about half a minute and the whole sky was illuminated. The craft then took height again, vertically, and disappeared at a dizzying speed, leaving behind a trail of fire, similar, Mr. Gambier told us, to a firework rocket...?
Several residents of Huby-St-Leu also witnessed this phenomenon, and, if this information had not been communicated to us by a sworn official, we would have hesitated to insert it.
But the fact is there... just like other facts of the same kind... inexplicable... at least for us.
But let's not anticipate.
R. B.
***
We learn that this luminous phenomenon was seen in Etaples, at exactly the same hour and by several people.
Explanations:
The 08:45 p.m. meteor.
Keywords:
(These keywords are only to help queries and are not implying anything.)
Etaples, Etaples-sur-Mer, Pas-de-Calais, luminous, multiple, night
Sources:
[----] indicates sources which I have not yet checked.
[jdm1] Article in the local newspaper Le Journal de Montreuil, Montreuil, Pas-de-Calais, France, page 3, October 24, 1954.
Document history:
| Version: | Created/Changed by: | Date: | Change Description: |
| --- | --- | --- | --- |
| 1.0 | Patrick Gross | March 19, 2020 | First published. |