The 1954 French flap:
The index page for the 1954 French flap section of this website is here.
October 16, 1954, Paris, Paris:
Reference number for this case: 16-Oct-54-Paris. Thank you for including this reference number in any correspondence with me regarding this case.
Reports:
[Ref. fde1:] "FRANCE-DIMANCHE" NEWSPAPER: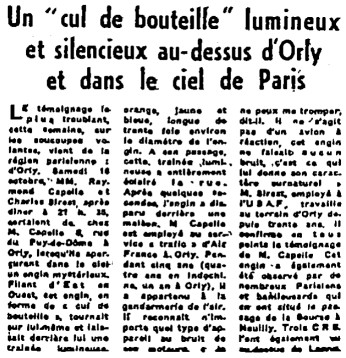 A luminous and silent "bottle bottom" above Orly and in the sky of Paris
The most disconcerting testimony, this week, on the flying saucers, comes from the Paris area: from Orly. Saturday October 16, Misters Raymond Capelle and Charles Birest, after dining at 09:35 p.m., came out from Mr. Capelle's, 8, street of the Puy-de-Dome in Orly, when they saw in the sky a mysterious machine. Slipping by from East to West, this machine, in the shape of a "bottle's bottom", rotated and left behind a luminous orange, yellow and blue trail, long of thirty times approximately the diameter of the machine. At its passage, this luminous trail entirely lit the street. After a few seconds, the machine disappeared behind a house. Mr. Capelle is employed with the "traffic" service of Air France in Orly. During five years (four years in Indo-China, one year in Orly), he belonged to the gendarmerie of the air. He identifies any type of apparatus with the noise of its engine. "I cannot be mistaken, he said. It is not a jet plane, this machine did not make any noise, it is what gives it its supernatural character". Mr. Birest, employee with the U.S.A.F., worked at the Orly airfield for thirty years. He confirms in all manner Mr. Capelle's testimony. This machine was also observed by the many Parisians and suburbians who located the passage from the Stock Exchange to Neuilly. Three C.R.S. also saw it above Lagny.
[Ref. aml1:] AIME MICHEL:
Aimé Michel wrote about the October 16, 1954, 09:30 p.m. meteor:
THE TEST OF THE METEOR. October 16, as if it was purposely, a splendid meteor crossed the north of France towards 09:30 p.m.. It was observed on a score of departments by thousands of people, from the Allier to Lorraine and from the Swiss border to Paris. Naturally many witnesses believed to have seen a Flying Saucer and said so. The newspapers printed "Flying Saucer in Orly", or "in Montididier", or "in Metz." But once again the description made by all these weak brains appeared of a remarkable honesty.
[...]
The innumerable gathered testimonys show indeed that even when the witnesses called "Flying saucer" the observed object, their description is identical on 200.000 square kilometres where the visible phenomenon was visible: an "orange ball followed by a trail", a "large luminous ball with a tail", a "flying egg followed by a trail", a "bottle's bottom with a trail of thirty times its diameter", etc. The same phenomenon is uniformly described.
[...]
[Ref. ldl1:] MAGAZINE "LUMIERES DANS LA NUIT":
A reader, Paul Guicciardi, indicates to the magazine that on Saturday October 16, 1954, he saw an orange sphere with a long rectilinear and luminous trail. He wonders whether the trail is ionized air [Yes.].
The thing crossed the Raspail boulevard at roofs level, at the Raspail subway. There were two other men on the same sidewalk, who moved towards the Denfert-Rochereau square, and who did not seem to have seen the phenomenon "although very big (4 to 6 m in diameter) and which was exactly in front of them.
The reader wonders whether the observation were intended to him in particular.
Explanations:
Obvious description of the October 16, 1954, meteor.
Keywords:
(These keywords are only to help queries and are not implying anything.)
Paris, Raspail, globe, orange, trail
Sources:
[----] indicates sources which I have not yet checked.
[fde1] Article in the national weekly newspaper France-Dimanche, France, October 17, 1954.
[aml1] "Mystérieux Objets Célestes", book by Aimé Michel, Arthaud publisher, France 1958.
[aml1] "Flying Saucers and the Straight-Line Mystery", book by Aimé Michel, English version of "Mystérieux Objets Célestes", S.G. Phillips publisher, USA, 1958.
[aml1] "A Propos des Soucoupes Volantes", book by Aimé Michel, reprint of "Mystérieux Objets Célestes", Planète publishers, France, 1966.
[aml1] "Mystérieux Objets Célestes", book by Aimé Michel, Seghers publisher, France, page 244, 1977.
[ldl1] "Réactions" column, report by Paul Guicciardi, in the ufology magazine Lumières Dans La Nuit (LDLN), France, #364, page 40, May 2002.
Document history:
| Version: | Created/Changed by: | Date: | Change Description: |
| --- | --- | --- | --- |
| 1.0 | Patrick Gross | March 8, 2010 | First published. |
| 1.4 | Patrick Gross | December 12, 2016 | Addition [fde1]. |