The 1954 French flap:
The index page for the 1954 French flap section of this website is here.
October 10, 1954, Perpignan, Pyrénées-Orientales:
Reference number for this case: 10-Oct-54-Perpignan. Thank you for including this reference number in any correspondence with me regarding this case.
Reports:
[Ref. in1] "L'INDEPENDANT" NEWSPAPER: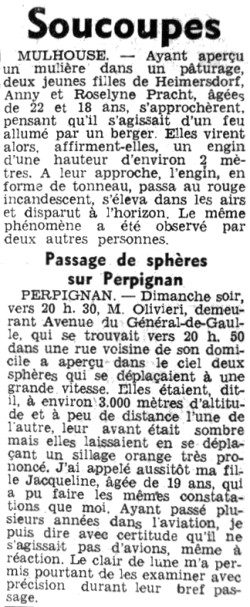 Saucers
MULHOUSE. -- Having seen a mulière in a pasture, two girls of Heimersdorf, Anny and Roselyne Pracht, 22 and 18 yearsold, approached, thinking that it was a fire lit by a shepherd. They then saw, they claim, a machine of a height of approximately 2 meters. On their approach, the machine, in the shape of a barrel, changed to the incandescent red, rose in the airs and disappeared at the horizon. The same phenomenon was observed by two other people.
Passage of spheres on Perpignan
PERPIGNAN. -- Sunday evening, towards 08:30 p.m., Mr. Olivieri, living on Avenue du General-of-Gaulle, who was around 08:50 p.m. in a street close to his residence saw in the sky two spheres which moved at a high speed. They were, he says, at approximately 3.000 meters of altitude and at little distance one from the other, their front was dark but they left while moving a very marked orange wake. I called at once my daughter Jacqueline, 19 years old, who was able to make the same observations as I. Having spent several years in aviation, I can say with certainty that they were not planes, not even jet planes. The moonlight enabled me however to observe them with precision during their short passage.
Explanations:
Not looked for yet. Possible jet planes or meteors.
Keywords:
(These keywords are only to help queries and are not implying anything.)
Perpignan, Pyrénées-Orientales, night, moonlight, Olivieri, spheres, fast, high, red, trail
Sources:
[---] indicates sources which I have not yet checked.
[in1] Article in the regional newspaper L'Indépendant, Perpignan, France, October 12, 1954.
Document history:
| Version: | Created/Changed by: | Date: | Change Description: |
| --- | --- | --- | --- |
| 1.0 | Patrick Gross | October 25, 2011 | First published, [in1]. |
| 1.1 | Patrick Gross | October 29, 2011 | A search on the web and in my documentation did not reveal other sources. |